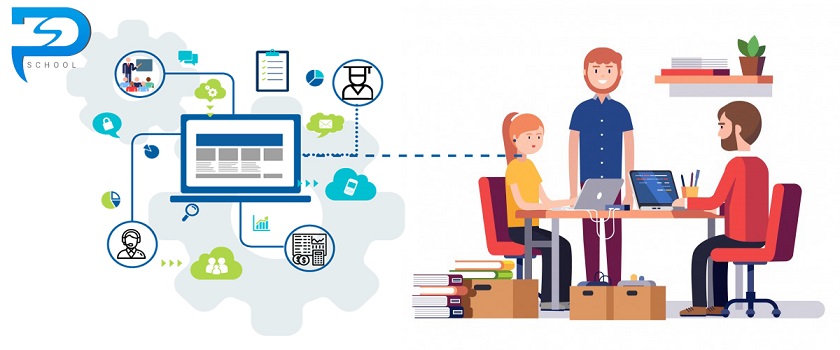 ERP School Management System - Smart Features Manage Various School Activities
Are you looking to empower your entire school? School ERP can be a wise choice for any size of the school to manage various school activities including parent engagement, increase student productivity and improve results. The school ERP solution provides the solution of all requirements of admission counsellor in restructuring the complete admission process.
With the ERP School Management System school can generate circulars and SMS instantly. The multilingual option helps to make communication effective for parents from different regions. The application encompass teacher's calendar with a lesson plan, schedule, and status which allows the concerned authorities to keep eyes on the teachers teaching in the class. The school as well have the facility to generate and print customized report cards as per their needs. The ERP application can also be used for inventory management of various products of the school including books, school dresses, diaries, etc. Additionally, School ERP system is proficient of managing various information including employee information, student information and other activities of the school.
With the best School ERP Software solution, users can easily access, create and share business information through hand-held devices. This ensures real-time access to data on the fingertips, without much investment or setup. Though, not all mobile ERP applications are built for the same purposes. Choose an ideal mobile ERP tool that is capable of streamlining communication for better work collaboration and greater productivity.
Benefits of ERP Online Software
Cloud Storage-
Cloud-based mobile ERP applications
are quite useful in streamlining the process without hampering the operational efficiency. Storage of data in a specific location along with easy access from any location saves time and ensures long-term productivity.
Better Data Quality – The ERP system is as good as input data. It ensures easy data collection via mobile app and makes ERP system more effective. This one-stop solution records all your data and preserved for long.
Advanced Visibility – With ERP Online Software, it becomes easy to track the activities done in the school in different department and locations. It makes your school management processes accordingly. A mobile ERP app collects valuable data and information from different points and provides up-to-date information to keep teachers, parents and school authorities informed about anything happening in real-time.
Cut-throat Advantage – Access of real-time data relevant to business accounts help schools to improve their competitive advantage. With the facility to access school ERP application on both systems and mobile devices help school authorities to make better decision over school operations.
System Suppleness – ERP apps have definitely simplified the process of school management. Mobile applications have wonderfully added an extra layer of flexibility to existing ERP implementations, making the process faster and more affordable.
So, choose comprehensive school management software with user-friendly dashboards and arrays of features including bus location tracking, instant attendance report, homework notifications, performance updates, announcements, exams & extra activities, mobile application add-ons for school admin and more.
.