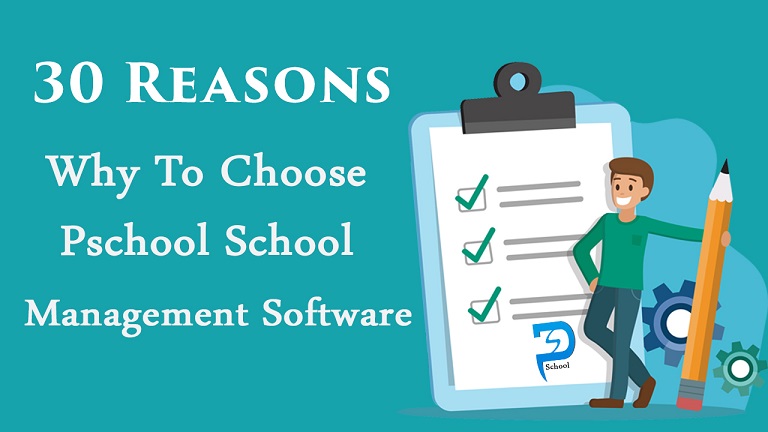 30 Reasons to why Pschool Online School Management ERP Software System
The time has gone when schools and other educational institutions had to keep records on paper. Thanks to technology that has made educational institutions tasks paperless and easier. Important processes including data management, fees collection, attendance management, timetable management and many more are done within no time which ultimately aid in increasing overall efficiency of your institution.

Use in Any school
Pshcool Online School Management System can be used in any school, college/University or other educational institutions. It increases the productivity of an organization by maintaining track records in less time and increasing the accuracy of data.
Custom Data Import Tools
Custom made features in school management softwareare helpful to meet your requirement. Pschool ERP software is constantly updated based on data driven by our customers and their feedback.
Custom Reports
Pschool ERP software for schools enables you to create highly important reports which you can customize as per your requirements.Custom report plugin give you freedom to customize reports in a way you want.
Graphical Reports
A simple report is hard to understand and hence Pschool hasincorporated a tool to turn all reports into graphical reports with ease. The message is conveyed easily with graphical reports.
Data Privacy

Privacy matters to everyone. We know this fact and hence offer every school and other educational institutions full privacy to their data as the data is completely encrypted while being stored in Pschool software online.
Affordable Pricing
No matter what size of school or colleges you run, Pschool offers school ERP solution at affordable price. So institution with low budget can even enjoy the benefits of such software.
SMS Messaging System
SMS messaging system of Pschool aids in sending school relevant messages to all parents acknowledging them with respect to their ward's attendance, fee payment, events etc.
Online Payments
Pschool allows parents to pay their child fees online even on move using their mobile phone. The system also offers different payment options including debit card, credit card and net banking.
Eco Friendly
Managing your school using Pschool online software helps your institution use less paper and files. Doing so makes your institution eco-friendly as all the important data and reports are stored on the cloud.
Security
Making use of school ERP software keep you worry free about any vital information being stolen. Our software protects your data from intruders.
Admissions
Pschool school admission management system provides a detailed admission form in which basic information about the students needed to be filled. The form can be easily integrated with your institution website to fill it anytime.
Language Support
PschoolERP software supports different languages and hence it easily translate document into your own language. The web interface also allows you to rephrase or change any text to suit your institution needs.
Parent and Student Login
Both parents and students can enjoy their own login access to Pschool, which allows them to view their dashboard sitting in any part of the world.
Employee Login
Faculty and non-teaching staffs havecan enjoy separate login access to Pschool online management software. The software is useful enough to automate the system and ease the process of your institution.
Mobile App
The mobile app for parents allow them to keep an eye on their children's school life and mobile app for teachers are smartly designed to enhance communication between teachers and parents in a modern and user-friendly way.
No Hidden Fees
Pschooloffers a supple interface to incorporate any fee structure. Users even can keep record of instant and recurring discounts and fee groups; along with late fee and other fines means you enjoy no hidden fees experience.
School Dynamic Website
Pschool create fast, simple and secure school dynamic website for your educational institution. You can customize this solution as per your school website.
Multiple User Interfaces
Multi user interface feature of Pschool ERP software helps in automating its system and allow multiple members to login and manage the activities assigned to them.
Secure Password Management
Password manager provides a simple, secure and self-service solution to the users and enable them to securely store vital data of the school. With this software, you need not to sacrifice security anymore.
Manage Batches and Courses
Pschool school management software can manage various courses and batches with the single installation of our Pschool. It allows school management to set up a class with available students and assign and manage subjects for them.
Reception Management System
With Pschool reception management system, you can cater to different types of visitors entering your institution premises and keep a track record of it. With this module, office executive can also keep record of selling of prospectus, admission forms, issuing of certificates, letters etc.
Employee Management
Pschool School Management Software helps an institution to manage all the information relevant to their employees along with employee's leave and salary with ease. Details of the employee can be extracted within a single click.
Timetable Module
Pschool Timetable Module helps your institution function efficiently. Our timetable module comes with some smart features like class timings and custom weekdays.
Smart attendance (Biometric / RFID Card attendance System)
Biometric/ RFID Card attendance system automatically calculates the attendance of students. It also manages payrolls of different employees including teachers and non-teaching staffs in your institution.
Exam management
Pschool exam management helps you to manage different exams conducted in school. It is easy to grade the result in the system and parents can view their child result hassle-freely.
Transport Management
With Pschool transport management system, parents can easily track their child's school bus location. The software also sends a time schedule notification to the parents on arrival and departure of the school bus.
Library Management
The library module of the Pschool helps you to manage library more efficiently. The software eases the tasks of librarians and administrator by providing automation and strong platform to issue books and more.
Fee Receipts
With Pschool, it's easy to design and generate clear fee receipt messages to parents and update student records with ease. Even you can print or email to the parents.
Student Records
When it comes to student records, Pschool online software manage the student attendance by maintaining session-wise or class wise attendance and keeps the records of all students in the database.
Reminders (Notification)
School management software of Pschool help you in sending alerts, reminders, notification, SMS, newsletters, pictures and videos of school events and many school related information to the parents.
FAQ :
If you have Queries like below mentioned, kindly contact us to know more.
- Why schools should use Pschool School Management Software

-Factors to consider when choosing your education
- Things to Look for While Choosing Pschool School Management
- Top 30 reason to choose school management software
- Why Selecting Pschool School Management Software
- Reasons to Choose Educational Pschool ERP Software
- Why Choosing and Using Pschool Educational Software
- Get Best school management software system by Pschool
- Benefits of Implementing School Management Software
- Pschool Online School Management Software Review
- Why Choose a Web Based School Management System
.