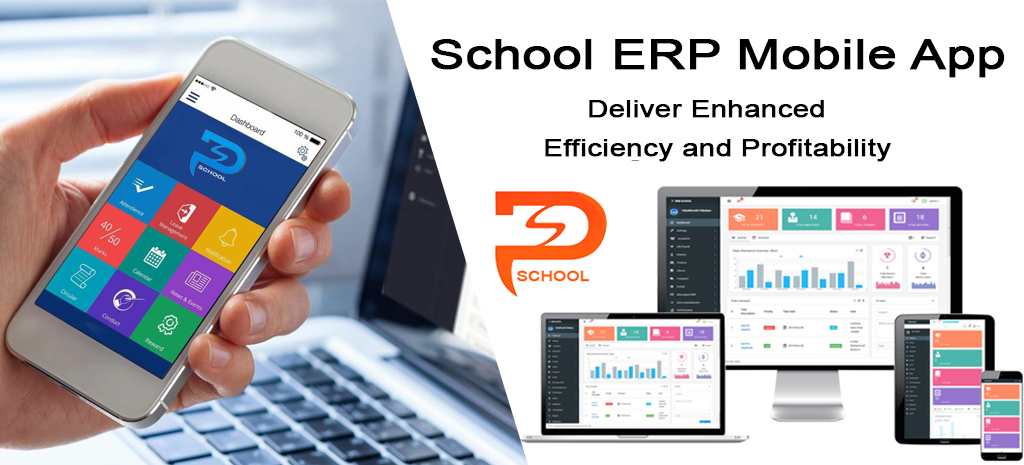 School ERP Mobile App - Deliver Enhanced Efficiency and Profitability
With the advent of technology, it is no more difficult to manage and guide the activities of an educational institution. A school management system transforms schools into smart schools which are always the preferred choice for new era parents. Transparent operations, quick communications and flawless administration can put your school in the group of smart schools. Choose the right school management software that can help you control the day to day activities of the school including data collection, storage and retrieval easier and faster.
The school management software made the tedious task of school management easy in all perspectives including seeking a student information, performance and daily activities of a student etc.The details of entire institution can be stored in a single disc. School management software as well manages the financial aspects of the institution. It collects details about the fees paid by each student, the salary given to the staff and the funds received by the school etc.

Apart of all these features, another vital feature of school management software is that it makes interaction easy between different levels of organization in the school.

• Students and teachers interaction

• Teachers and parents interaction
• Admin and staff interaction
• Staff and parents interaction
Such interaction saves time. Teachers' management software help teachers put assignments, syllabus and notes and assign them to the students. They can even put important dates of tests, class timetable etc. Even students have flexibility to log on to the system and view their done work. Their uploaded assignments can be easily viewed by teachers.With the help of reminders, students can access to all school resources like library, question banks, educational videos and grade book engage them to prepare well for assessments and online exams. With such software, students feel connected with their teachers and school.

With patents management software parents can log on to the system to track their ward's progress within a click. They can also easily access to week plan, time table, homework, work sheets, exam schedules and results etc and can also easily interact with the teachers and know about their children's performance. Update about scheduled parent meeting and school announcements make parents feel connected with the school all the time. This makes easy evaluation for both teachers and parents of their children and ultimately help in increasing the performance of their child.

Institution like schools is wisely using ERP Mobile App to manage the school hassle-freely and get improved business results. A successful mobile ERP implementation requires a mobile ERP platform primarily designed to address the complexities inherent in mobilizing your backed data. Users have flexibility of using the ERP system via mobile devices like smartphones and tablets, instead of a fixed computer location. Since mobile ERPs enhance mobility within the framework of your school, it ultimately increases productivity.

Mobile ERP apps are driving innovation and hence its demand is increasing day by day. If you want to increase the visibility of your school and speed up the process of automation to deliver enhanced efficiency and profitability, it's the time to go with best school management software.
.